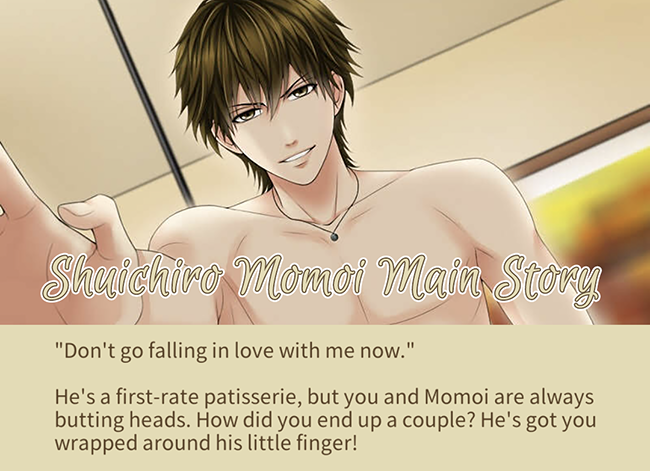 Episode 1
B: Go ahead and climb on.
C: Call him Momoi.

Episode 2
C: "This coming from the 'Prince of Pastry'?"
B: Maybe I'll enter.

Episode 3
A: Stare back at him.
C: "That's none of your business."

Episode 4
C: "A-Aaaaah."
A: "Well are you afraid you'll fall for me?!"

Episode 5
A: Poke Momo in the side.
B: "That's so nice."

Episode 6
B: "I think it's wonderful!"
B: "You never stop joking around, huh?"

Episode 7
A: "Of course n…"
B: "He did it for my sake."

Episode 8
C: "Maybe I'm just tired."
B: "What, it's just a date."

Episode 9
A: "I'm a little concerned."
C: Ask him where he's going.

Episode 10
A: Jokingly pretend like you're crying.
C: I have the rough design sketch of that cake.

Episode 11
C: "I want to make this cake with you."
B: Stroke his head.

Episode 12
B: "What're you talking about?"
A: Tilt your head to the side and think.